Baby with congenital heart disease finds winning care team
Lodi infant with Tetralogy of Fallot needed multiple heart surgeries
Ashley Katzakian, of Lodi, was 20 weeks into her pregnancy when she was referred to UC Davis Children's Hospital. An ultrasound had revealed a potential issue with her developing baby's heart.
"We were referred to the UC Davis Fetal Care and Treatment Center and our baby was diagnosed with Tetralogy of Fallot," said Katzakian. "The doctor told us that the baby would require surgery when she was still an infant. My husband and I wondered what this would mean, both short- and long-term, for our daughter. We wanted her to be able play sports or dance or do anything any other child could do."
Team UC Davis Children's Hospital
A congenital heart defect, Tetralogy of Fallot (TOF) is a combination of four related heart defects that occur together. The result is that too little blood reaches the lungs and the rest of the body.
The Katzakians were reassured by UC Davis fetal and pediatric cardiologist, Jay Yeh, that highly qualified surgeons would perform the necessary procedures and their child would not be limited by her heart condition. But first things first … the surgery. And the birth.
"Dr. Yeh instilled confidence in us that we were in the right place and that our daughter was in good hands," Katzakian said. "We transferred care to UC Davis Health."
The countdown begins: Baby Adelyn's arrival
For the Katzakians, the next 19 weeks were wrought with worry, but the baby – who would be named Adelyn – held on until 39 weeks and six days. She was a bright pink, amazing bundle when she arrived on Jan. 18, 2022. Mom and dad got 25 minutes with her their daughter before the UC Davis Neonatal Intensive Care (NICU) team whisked her away.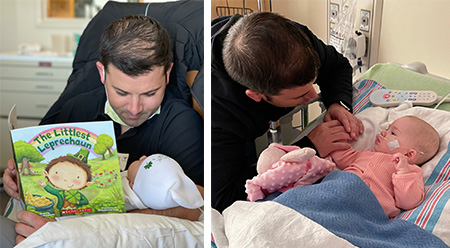 Baby Adelyn was monitored in the NICU for her heart condition for 13 days before going home to grow bigger and stronger before her surgery. She was also given medication and a stent was placed to keep her ductus arteriosus open.
Every baby is born with a ductus arteriosus – an opening between the two major blood vessels leading from the heart. It usually closes on its own, but Adelyn needed it to stay open to have enough blood flow to the lungs so she could safely leave the hospital and come back in three to six months for surgery.
She was enrolled in the hospital's home monitoring program for complex congenital heart disease patients so that she could be closely monitored 24/7. This program was the first of its kind in Northern California.
Changes to the gameplan: Hospitalization and surgery sooner than anticipated
"We were at home for about two weeks when her oxygen levels dropped," Katzakian said. "Dr. Yeh told us to come to the Pediatric Emergency Department. Adelyn was hospitalized and we spent three days in the Pediatric and Cardiac Intensive Care Unit (PICU/PCICU)."
Adelyn was released from the PICU/PCICU and the Katzakians returned home to Lodi. At a follow-up appointment with Yeh on Feb. 28, the now 5-week-old baby was back again for low oxygen levels. After assessing the options, doctors decided to move forward with the heart procedures, which were already planned.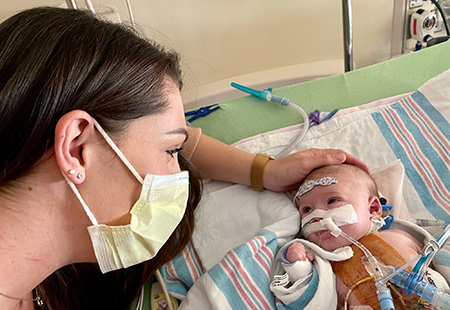 Chief of pediatric cardiology and co-director of the Pediatric Heart Center, Frank Ing, was first up. A specialist in using less-invasive methods to treat heart and vascular conditions in children, Ing placed a patent ductus arteriosus plug to close the ductus arteriosus.
Once Adelyn was stabilized, doctors addressed the TOF repair.
Next up was UC Davis pediatric cardiothoracic surgeon, Gary Raff. The plan was to perform a full repair of the TOF heart defects – widening or replacing the pulmonary valve and enlarging the passage from the right ventricle to the pulmonary artery and closing the large hole between the ventricles.
"Waiting [for the surgery to be over] was excruciating. It seemed to take forever," Katzakian said. "And then when it was over, we went from relief to panic when were told there were post-surgical complications."
Team players save the day by saving Adelyn
"It was a straightforward repair of the TOF. Nothing out of the ordinary," Raff said. "Everything seemed fine, but during recovery in the PICU, the care team noticed that Adelyn had some significant abdominal distension that interfered with her ability to ventilate."
The team took action.
"It seemed like every member of the PICU staff was there in her room," Katzakian said. "It was overwhelming, but we could see how determined they were."
Raff immediately opened Adelyn's chest. He didn't find anything there to explain why this was happening. At the bottom of the chest incision, he gained access to her belly. There was a lot of bleeding from the abdomen.
"I was able to release all that blood from the belly and got the pediatric surgeons in the room within minutes," Raff said. "Working with the pediatric surgery team, we came up with a plan, deciding not to open the incision any further but instead, monitor her closely for the next few hours to see if the bleeding stopped." It did.
Adelyn's chest remained open for the first week of recovery and Katzakian said not being able to hold her little girl was one of the hardest parts of what had already been a long journey.
"I wondered how our strength held out," Katzakian said. "I am not sure how we got through it, but we did. And more importantly, so did Adelyn."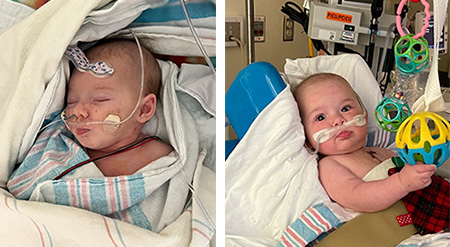 Raff reflected on all that had happened to date.
"If someone tells you there are never any complications, they are not being honest," Raff said. "The bleeding we saw was not normal after surgery. But having an experienced team that can rapidly recognize rare or unexpected issues is key."
Baby Adelyn spent three weeks in the hospital following her initial surgery. By now, it was almost April.
Game's not over yet: Another heart surgery
At Adelyn's follow-up appointment in July, the Katzakians got more unexpected news: their daughter needed another heart surgery. Scarring had developed at the site of the patch used to enlarge the pulmonary artery that was placed during her initial surgery. Once again, Adelyn needed care on her own timeline.
"Adelyn is an example of a child with serious heart disease who has been thrown a number of curve balls," Raff said. "As a care team, we have to hit those pitches. At UC Davis Children's Hospital, we have a very experienced team that was able to do that."
This time around, all went smoothly and baby Adelyn, now almost six months old, spent only six days in the hospital.
Adelyn and UC Davis for the win
"If we had to do it all over again to have Adelyn in our lives, we would," Katzakian said. "This kid is something else. She is growing into an amazing person who has zero chill! She's so busy and spunky and funny. Nothing is going to keep her down. Our girl is the absolute best!"
Katzakian says the same about the care team who she believes provided the highest quality care, despite the challenges.
"I feel very strongly that UC Davis Children's Hospital is the best," Katzakian said. "My daughter is here because of the incredible team, including Dr. Yeh. He's the reason we came to UC Davis to begin with."
Final score: Adelyn – 1 … year old, that is, as of January 2023. Happy Birthday!