Clinic helps 10-year-old with inflammatory bowel disease get back to being a kid
Chronic conditions may require infusions. The Acute Infection Management Clinic now offers this service to kids.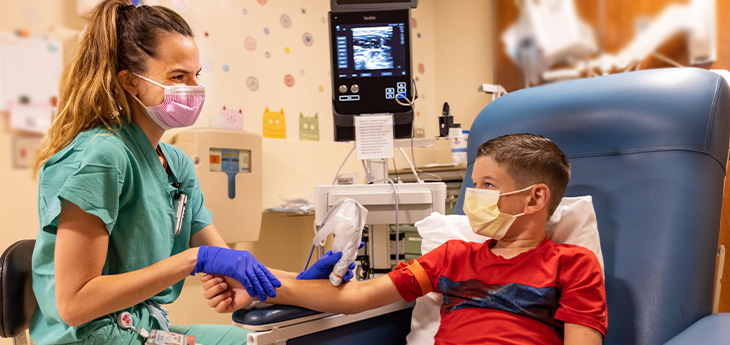 Adam Olson had always been a funny, active kid. His mom, Kelly, knew something was wrong when her then 5-year-old had low energy and had lost his sense of humor. Maybe it was a childhood bug. He'd get better. But then she discovered blood in his stool. Although she hoped it was just hemorrhoids, she feared it could be far worse.
"When I brought Adam to UC Davis Children's Hospital in 2018, they ran every test under the sun," said Kelly Zehnder-Olson. "When we finally got a diagnosis of chronic inflammatory bowel disease (IBD), I knew what Adam was up against."
A chronic condition with no cure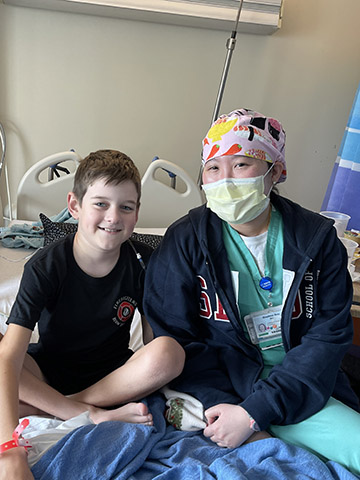 "IBD is an umbrella term for an autoimmune disease in the gut," said Daphne Say, pediatric gastroenterologist at UC Davis Children's Hospital and Adam's doctor. "The immune system and gut cannot turn itself off. As a result, it attacks itself. You cannot cure it, but you can control it."
In addition to gastrointestinal distress, it can cause rashes, affect bone health and lead to arthritis. In children, the disease can affect growth because it affects nutrition. When a patient as young as Adam is diagnosed, the disease often progresses from mild to more aggressive.
That's exactly what happened. Adam's disease was initially managed by diet and medication, allowing him to get back to living a normal life. He was his happy, quick-witted self. But the disease slowly advanced. It wasn't until several years later when Adam was 8 that it got so bad he was incapacitated.
"He had been pushing through his symptoms but finally said, 'Mommy. I just want to lay down,' Kelly Zehnder-Olson recalled. "Adam was so pale. He finally told me he had blood in his stool again, so I called Dr. Say and she told me to bring him to the UC Davis Pediatric Emergency Department."
Adam was hospitalized, even requiring a blood transfusion.
"This disease can be quite sneaky. It is not acutely worse right away," Say said. "We had to stabilize Adam and then reassess. We knew we had to escalate therapy."
Relief and new friends await at the AIM Clinic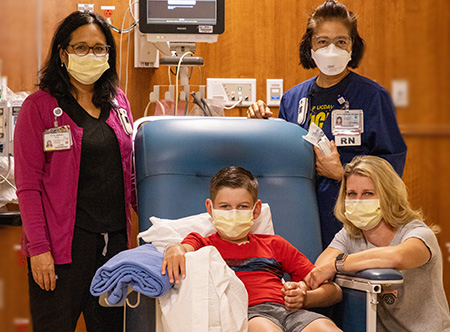 Enter the Acute Infection Management (AIM) clinic, which provides outpatient therapies for patients diagnosed with acute infections and chronic conditions. AIM patients generally require intravenous (IV) infusion, but do not require around-the-clock nursing services in the hospital. At the time of Adam's diagnosis or treatment, all the other patients were adults.
Since IV medicines are often more effective for treating chronic conditions like Adam's, Say presented the AIM Clinic as an option to the Olson family. He would be the first pediatric patient.
Adam and his family got a tour of the clinic while he was still hospitalized. Before he even had his first infusion, he knew what to expect. Despite having to sit still for four to six hours during his infusions, he would be in the same spot, at the same time, with the same people.
"The continuity of services means patients like Adam get to see familiar faces each visit," Say said. "Obviously, that has made a big difference to him and his family."
Mom, Kelly, says that isn't the half of it.
"The AIM Clinic staff is amazing. They provide Adam with such great care," Kelly Zehnder-Olson said. "Even though it was a scary time, the visit to AIM was anything but. After his first infusion, Adam asked when he could go back and see his friends at the clinic. They just adore him there."
A future full of hope … and laughter
"UC Davis Health is so fortunate to have AIM services to offer pediatric patients with chronic gastrointestinal conditions," Say said. "As new treatments are introduced, the clinic helps coordinate care across the hospital so we can provide the best possible medical outcome for our patients, including kids like Adam."
Now on a monthly treatment schedule, Adam looks forward to his future and actually enjoys going to AIM for his infusions. Why? Because he wants to hang out with the people on his care team who have made a positive impact on his life. And vice versa.
"Adam is a really great kid. He has such a dry sense of humor and he's not a complainer," Say said. "Seeing Adam's disease under control and him back to the business of being a kid feels great. He's definitely a pediatric patient success story and he was excited to tell it."
Next up, Adam thinks he should be up on a billboard. Keep an eye out.