Free youth heart screening in Sacramento set for March 12
Cardiac risk assessment, EKG help to identify youth with undiagnosed heart condition
One in 300 young people have an undiagnosed heart condition that puts them at risk for sudden cardiac arrest (SCA). A free youth heart screening event aims to help identify youth who may have an undiagnosed heart condition. It's being hosted by the Kyle J. Taylor Foundation (KJTF), in collaboration with UC Davis Health and Project ADAM Sacramento.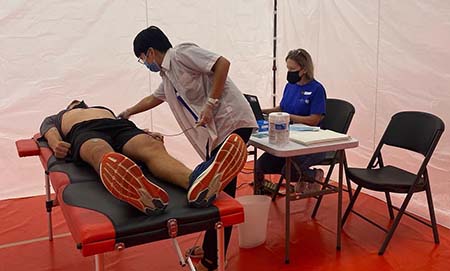 The free event will be held Sunday, March 12 from 9 a.m. to 4 p.m. at the Christian Brothers High School gymnasium. The school is located at 4315 Martin Luther King Jr. Blvd. in Sacramento. The event is open to anyone between the ages of 12 and 25. Pre-registration is required to attend.
The screening includes a cardiac risk assessment, an electrocardiogram (EKG) and a physician review, which takes about 40 minutes to complete.
The EKG is a simple and painless test that records the electrical activity of the heart using small sticky electrode patches that are attached to the skin of the chest. Structural and electrical issues of the heart, which can cause SCA in young people, can be seen in an EKG.
In addition, hands-only CPR will also be taught to the public.
All who attend will be required to wear masks indoors.
The event aims to prevent sudden cardiac arrest risk in children and young adults. Annual physical examinations and sports pre-participation physical exams can miss about 85 to 90% of issues that can cause sudden cardiac arrest in youth.