Transfer to UC Davis Children's Hospital saves micro-preemie twins' lives
Local family grateful both daughters ultimately got the expert care each needed
Merari Barnes knew her pregnancy was high-risk. She had experienced pre-term labor in a previous pregnancy, so she knew her twins could come early. However, Barnes, who lives in Marysville in Sutter County, never imagined just how early.
Nova and Nylah Barnes arrived via Caesarean section (C-section) at a community hospital on March 12, 2021, weighing in at 15.8 ounces, 11 inches and 16.2 ounces, 10 inches respectively. They were 23 weeks old.

"Both babies were struggling. We were told to expect the girls not to make it," said Dondre Barnes, the twins' father. "And if they did survive, they would not have normal lives."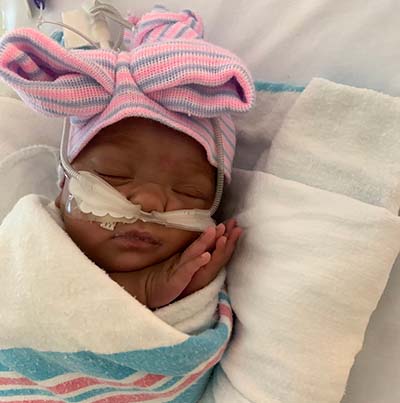 Nova was diagnosed with necrotizing enterocolitis (NEC) – a destructive intestinal disease that primarily affects premature infants that can lead to tissue damage and death. The girls faced  multiple other issues, too, including brain bleeds that could also lead to death. The Barneses confronted a critical question: Now what?
They refused to say goodbye to their babies.
"It was so scary, but we were not giving up," Merari Barnes said.
Prayer, Facebook and UC Davis Children's Hospital
The Barneses turned to prayer and the internet, determined to be their children's advocates. The couple would learn as much as they could about their infants' conditions and found others who were doing the same. A micro-preemie support group on Facebook provided them with information … and hope.
"The comments made us realize weren't alone," Dondre Barnes said. "That other babies faced similar challenges – some even worse – and had overcome them. UC Davis Children's Hospital was mentioned often. We decided right then we were going to do everything we could."
While the Barneses continued to educate themselves, Nova's NEC worsened.
Doctors reached out to the UC Davis Neonatal Intensive Care Unit (NICU) for a consultation. Now 27 weeks old, Nova was still so fragile that a transfer would be risky. However, the parents were united in their decision.
Once the call was made, the UC Davis Neonatal Transport team was on-site within an hour to take her to UC Davis Children's Hospital.
Two babies, two hospitals
Nylah remained at the other facility, but Dondre and Merari Barnes felt they had made the right decision to transfer Nova to UC Davis.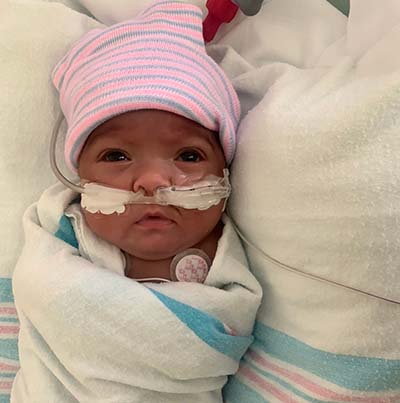 "We immediately felt comfortable, like they had it under control," said Dondre Barnes, of UC Davis Children's Hospital. "We met our angel, nurse Haley, and she took care of Nova like she was her own. We were confident we were in the right place."
Now, how to be with both babies at once?
"How could we split ourselves in two? We couldn't," Merari Barnes said. "When we were at UC Davis with Nova, Nylah would have a bad day. Then, we'd be with Nylah and we'd get a call about Nova."
As the Barneses drove between hospitals daily, Nylah's health took a sharp turn for the worse. She was experiencing seizure-like symptoms and had to be given chest compressions after her heart stopped.
"We were so distraught," Merari Barnes said. "Dondre and I agreed that we wanted Nylah to be at UC Davis, too."
Together again in the NICU
Five-and-a-half-week-old Nylah joined sister Nova in the UC Davis NICU. Both twins needed critical care. But UC Davis neonatologist Lee Donohue was committed to helping the girls survive, while keeping their parents informed and giving them the support they needed.
"Dr. Donohue was rooting for them all the way," said Dondre Barnes. "She knew exactly what the girls needed and was so happy when they made progress. She was really invested."
But it was not just one person who had the family's best interest at heart. It was everyone.
"You could tell how much the whole staff believed in Nova and Nylah. The doctors, the nurses, the fellows and residents," Dondre Barnes said. "Even the cleaning crew. All of them were cheering for us. It was like family. We felt so at home."
Nova and Nylah, home at last
By the time the twins were finally discharged, both babies had had PDA closures (a procedure to close an artery in the heart). They'd also been treated for brain bleeds and retinopathy of prematurity, an eye disease that often happen in babies who are premature. Coupled with Nova's NEC and other challenges, what had seemed impossible was now a reality: The Barnes family would return home to Marysville with both daughters.
Now a year old, Nova and Nylah are developmentally on track. The twins are crawling and walking and chatting, feats their mom and dad were initially told would never happen — even if the girls survived.
"The team was so amazing. I cannot tell you the difference they made in our lives," Merari Barnes said. "We are so grateful."
Nova, always the fighter, continues to be a strong, feisty little girl. Sister Nylah is a bit more laid-back. Both are survivors. It would seem the twins got those traits from their parents, who refused to give up and sought out others with the same fighting spirit. The Barneses need only to look at their toddlers to know they made the right choice.
"UC Davis saved our babies' lives. If your child needs care, this is where you have to go," Merari Barnes said. "If we had a time machine, we would have been at UC Davis since the girls were born."